Demon's Tilt
WizWay, 2017
Remember Dragon's Fury (aka Devil Crush) on the Sega Mega Drive and TurboGrafx-16? If so, then you know what you're dealing with here.
Demon's Tilt is an homage to that game: a single digital pinball table with a vast number of secrets, multipliers, special zones that upgrade your ball, spawnable enemies that wander around the table, secret areas, bosses, and three distinct sections, or tiers, of the table to play on.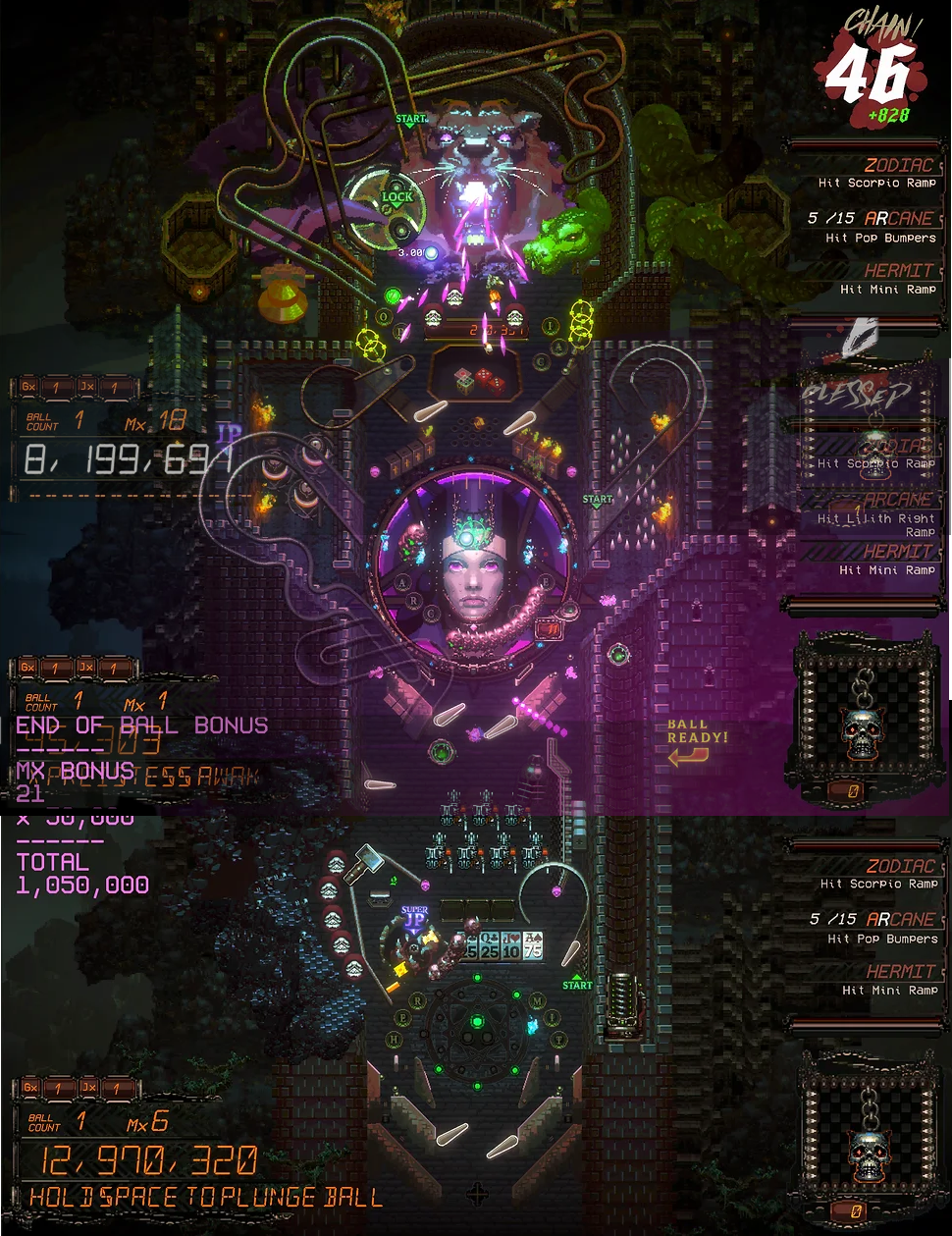 This is "occult pinball" (because there's lots of secrets, right?), so it wouldn't be complete without the odd pentagram (in the background of some stages of the priestess Lilith's transformation cycle), but that's about it as far the fun symbolism goes. However, there's a satisfying array of skeletons, wild animals, and miscellaneous dungeon scenery to populate the ominous tower where the table is set.
Demon's Tilt has a nudge mechanic to allow you to shove the virtual table just enough to change your ball's trajectory. It's massively important to high-level play, and I am very, very bad at getting the timing of it right. I'm rather better at cradling to catch balls and line up shots, which you'll also have to do a lot of.
Taking screenshots while you're playing pinball is incredibly hard, so I've instead made a full-table view out of some promo shots. If you're playing on a standard widescreen or ultrawide display in landscape mode, you'll never see the whole thing, but I've seen posts showing Demon's Tilt running in portrait mode, and it looks incredibly fancy.
Even if you're rubbish at pinball, it's good to dip into for a quarter-hour of fun every now and then, although it's clear that, in the hands of an expert player, this game could eat hours.
The chiptuneish soundtrack and low bit-depth samples add the atmosphere, and while I'd like my occult pinball to be more, well, occult, this really does what it wants to perfectly.
Buy Demon's Tilt for 16,79€ on Steam – https://store.steampowered.com/app/422510/DEMONS_TILT/
Also available for Switch, Xbox, and PS4.
#LinuxGaming #Pinball #CasualGames #SteamDeck #ActionGames #IndieGames #Occult